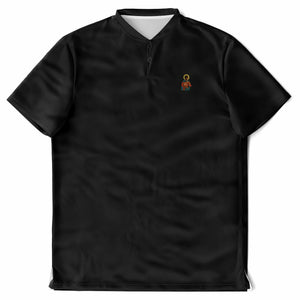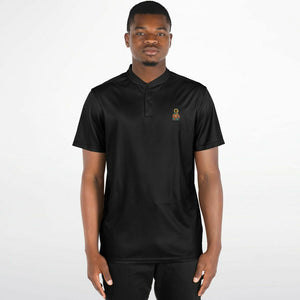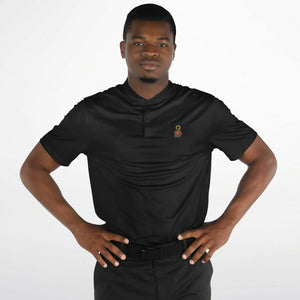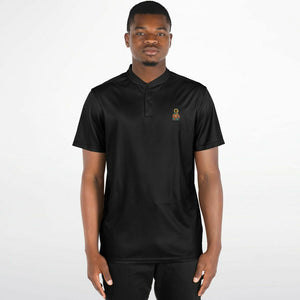 Black Saint Matthew Blade Collar Polo Shirt
Our Blade Collar Polo Shirt delivers comfort, style, and sustainability. Made of recycled polyester, it offers a comfortable fit and efficient moisture management. Its breathability, customizable buttons, durability, UPF 50+ protection, and inclusive sizing make it a perfect choice for all.
Product Highlights:
• Eco-friendly: 100% Recycled Polyester material
• Stretch & Comfort: Super soft, stretchy fabric
• Moisture Management: Sweat-wicking technology
• Breathable: Helps wearer stay cool and dry
• Durable: Maintains shape and color after repeated washes
• UPF 50+ Protection: Shields from harmful ultraviolet rays
• Functional: 2-button snap placket, bottom side vents, and sleek blade collar
• Inclusive Sizing: XS to 4XL

Because it's handmade for you, this requires 3-6 business days before they are shipped. Orders placed before midnight will be included in the following day's batch for manufacturing.
| Inch | XS | S | M | L | XL | 2XL | 3XL | 4XL |
| --- | --- | --- | --- | --- | --- | --- | --- | --- |
| Front Length | 29 | 29½ | 30 | 30½ | 31½ | 32½ | 33½ | 34½ |
| Chest 1" Below armhole | 20 | 21 | 22 | 23 | 25 | 27 | 29 | 31 |
| Bottom openning | 20 | 21 | 22 | 23 | 25 | 27 | 29 | 31 |
| Armhole | 8⅝ | 9 | 9⅜ | 9¾ | 10¼ | 10¾ | 11¼ | 11¾ |
| Neck width | 7 | 7¼ | 7½ | 7¾ | 8¼ | 8¾ | 9¼ | 9¾ |
| Centimeter | XS | S | M | L | XL | 2XL | 3XL | 4XL |
| --- | --- | --- | --- | --- | --- | --- | --- | --- |
| Front Length | 73.6 | 73.6 | 76.2 | 76.2 | 78.7 | 81.3 | 83.8 | 86.3 |
| Chest 2.54cm Below armhole | 50.8 | 53.3 | 55.8 | 58.4 | 63.5 | 68.6 | 73.6 | 78.7 |
| Bottom openning | 50.8 | 53.3 | 55.8 | 58.4 | 63.5 | 68.6 | 73.6 | 78.7 |
| Armhole | 20.3 | 22.8 | 22.8 | 22.8 | 25.4 | 25.4 | 27.9 | 27.9 |
| Neck width | 17.8 | 17.8 | 17.8 | 17.8 | 20.3 | 20.3 | 22.8 | 22.8 |