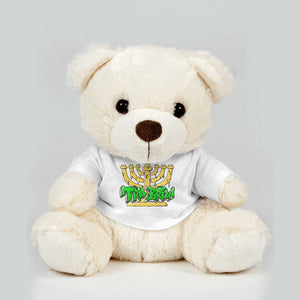 Custom Hebrew Israelite Teddy Bear Tru Brew Green Gift For Her Him Children Baby
Custom teddy bear's are a gift giving classic.  Everyone loves teddy bears!  Teddy bears are one of the first gifts we ever get and our love for teddy bears sticks with is our entire lives.
Our custom teddy bears are fun to hold and even more fun to design!  Use any image or text to design your custom teddy bear's shirt.  Perfect to sending to someone you love.  Makes a great gift that will be held and loved and cuddled with endlessly!
Sits roughly 18cm (7.1")
Super cuddly fur
Cute embroidered eyes and news
Mini t-shirt is removable (but don't forget to put it back on, the bear may get cold)
t-shirt is made from soft cotton